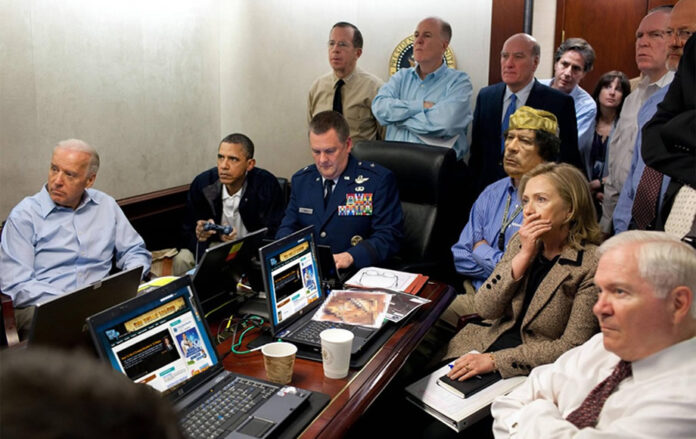 Col. Muammar al-Qaddafi is well known now for the abuses he has inflicted on his own people during more than four decades of brutal rule in Libya, but few remember the vast campaign of carnage and terrorism he orchestrated across West Africa and Europe when he was at the height of his powers. Nor are his more recent alliance with Hugo Chávez of Venezuela and his long-standing relationship with Daniel Ortega of Nicaragua — both of whom are busy trampling their constitutions and moving toward dictatorship — well understood. And the fact that all three governments support the Revolutionary Armed Forces of Colombia (FARC), a terrorist group that produces more than half of the world's cocaine and two-thirds of the cocaine entering the United States, is usually ignored.
Ortega and Chávez are among the handful of leaders to publicly defend the Libyan leader's attacks on his own people and urge him to hang on for one last revolutionary battle. In 2004, Qaddafi awarded Chávez the al-Qaddafi Internatioanal Prize for Human Rights, created by the Libyan dictator. Chávez, who in turn bestowed Venezuela's highest civilian honor on Qaddafi in 2009 while comparing him to South American liberator Simón Bolívar, has now offered publicly to mediate the Libyan conflict. Thus far, only Qaddafi has reportedly accepted the offer.
The ties that bind Qaddafi to some of the world's most repressive regimes and armed movements began in the 1980s, when he was regarded as one of the premier terrorist threats in the world. Flush with oil money, Qaddafi orchestrated a training campaign for those who became the most brutal warlords in much of Africa, a legacy that has left the region crippled and unstable today.
Qaddafi's World Revolutionary Center (WRC) near Benghazi became, as scholar Stephen Ellis noted in his classic 2001 book The Mask of Anarchy, the "Harvard and Yale of a whole generation of African revolutionaries," many of them the continent's most notorious tyrants. There, recruits from different countries were hosted in camps in the desert and given training in weapons and intelligence techniques, with some doses of ideological training based on Qaddafi's Green Book. Courses lasted from a few weeks to more than a year, depending on the level of specialization and rank one had.
In addition to the African contingents, Qaddafi's cadres trained the Sandinistas from Nicaragua, along with other Latin American revolutionary movements, and in the process developed an enduring relationship with Ortega. Later Qaddafi developed a close and ongoing relationship with the FARC, becoming acquainted with its leaders in meetings of revolutionary groups regularly hosted in Libya. 
At the WRC in the 1980s and 1990s, a select group of the students, drawn from the broader group of attendees, formed a fraternity of despots who provided mutual support in their bloody and ruthless campaigns for power and wealth. That durable network still wields considerable influence today through its alumni still in power, including Blaise Compaoré of Burkina Faso and Idriss Déby of Chad.
The one thing that held these disparate thugs together was their broad anti-American agenda, which led Qaddafi to support other dictators. Qaddafi's closest ally in the region was murderous Robert Mugabe, who although he is not a WRC alumnus, has been propped up by direct Libyan donations and subsidized oil shipments, primarily hundreds of millions of dollars in oil shipments. Relations between the two countries have been more strained in recent days when Zimbabwe could not repay its Libyan debt. Qaddafi seems to have made out well in his investments. After he intervened militarily in the Central African Republic in 2001, the president he protected, Ange-Félix Patassé, signed a deal giving Libya a 99-year lease to exploit all of that country's natural resources, including uranium, copper, diamonds, and oil. In Zimbabwe, Qaddafi acquired at least 20 luxurious properties after riding to Mugabe's rescue; he also got a stake in some of the few still-viable state enterprises.
But West Africa bore the brunt of Qaddafi's early ambitions. Liberia, the U.S. stronghold in West Africa in the Cold War, was of particular interest to Qaddafi, especially after President Ronald Reagan ordered a bombing attack in 1986 against Libya that killed one of his daughters.