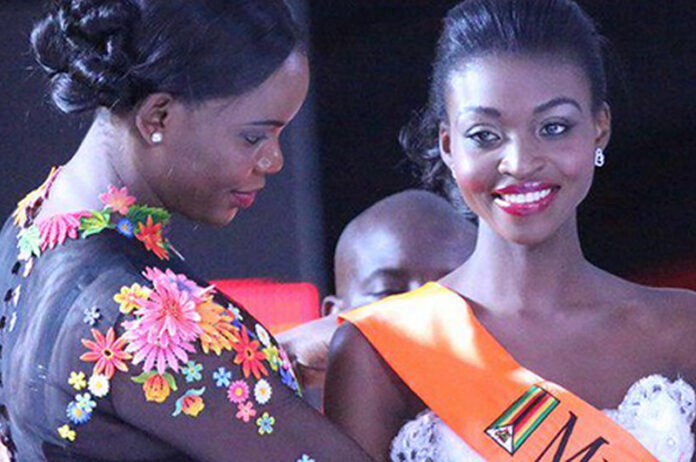 Okay this has got to stop. What! Another scandal? No institution can survive this much drama! I don't know how far true this is, but courtesy of HMetro, news is going round that the current Miss Zim's ex-boyfriend published her nude pics on a whatsapp group. And you know how stuff on whatsapp goes viral.
Owing to the fact that this piece of news has only been reported by the local tabloid and people are still asking questions, we cannot be sure of its authenticity. I didn't get to read the article, only had time to capture a picture of the newspaper showing the attention grabbing headline. According to the headline, it looks like the judges seem to have a neck for choosing girls with issues – two times in a row??? (rolling my eyes)
And then the speculations begin. Will the new queen need to step down? Will there be a re-run then or will the 1st princess have automatic qualification. Looks like the new requirement for entering Miss Zim is going to be for one to have been single for the past five years, lol. But what's up with these jealous exes? Like seriously?
Kachote, a 25-year-old financial adviser, had little to say about the allegations at the time. "I don't know what this is all about. That is all I can say for now," she said in an interview with the Herald.
This is not the first time a Miss Zimbabwe pageant queen has come under fire for claims of nude photos. Last year's winning contestant, Thabiso Phiri, resigned amid allegations of leaked nude pictures even though the claims were never proven true.
"Thabiso Phiri was not dethroned; she resigned, and the reasons why she decided to resign were best known to her and up to now we do not know why she resigned," Chirau said at the press conference last month. "We never saw the pictures, and even now if you go on [the] Internet, you will find Photoshopped pictures, not original pictures."