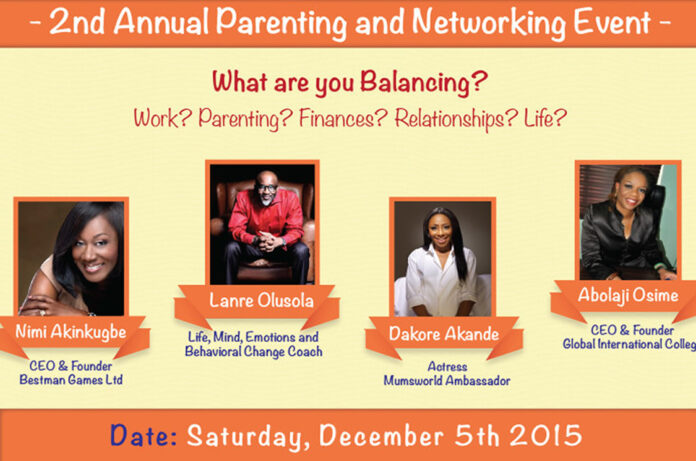 The 2nd annual Parenting and Networking event, hosted By Lagos Mums, held at the Wheatbaker Hotel, Ikoyi, Lagos on Saturday 5th December 2015 and was a fun time parents who attended.
The event served as an extension of their online presence, providing a face-to-face forum for networking and discussion on parenting in the 21st century, with the theme – "What Are You Balancing".
It started with a networking and mingling session followed by an introductory remark delivered to a full house by Labi Williams. He mentioned his joy at seeing Lagos Mums, which started as an idea, continue to grow as a community helping parents on their journey, and in the process make positive impact.
The moderator – Tomi Aluko, kicked off the interactive session with an introduction of the panelists – Abolaji Osime (CEO/Founder, Global International College) who is very passionate about educating Nigerian children to ensure they become globally competitive; Nimi Akinkugbe, who through her Monopoly Board Games and her new book – 'A-Z of Personal Finance', provides frank, practical insights to create a greater awareness and understanding of personal finance and wealth management issues; Lanre Olusola, recognized as one of Africa's premier life, mind, emotions and behavioral change coaches, and works with individuals to be all that they can be; and Dakore Akande, a celebrated artist, actress, stage performer and producer, while juggling being a mother.
Highlights from the speeches by the panelists are as follows:
– "Women need to manage their finances and diversify their base of wealth, do not invest only in Naira. Be creative and use your talents to earn. Do not follow the jones, they are broke." – Nimi Akinkugbe
– "You are a parent, not a friend – friendship is a tool you use as a parent. Many times parents are the problem not the children." – Lanre Olusola
– "Children spell love as T.I.M.E, so spend quality time with your children it is critical and important." – Bolaji Osime
– "Parents need to create time for their children, strive to have power over your time. Do not get carried away with the hustle and end up not knowing your children." – Dakore Akande
The question and answer session enabled a lot of LagosMums to share their personal struggles raising their children and get advice from the panelists. Everyone could relate and discussed the challenges when it comes to balancing their many roles. A real life case study was discussed, where a child was being pressured in school to take part in something that made her uncomfortable – the situation was discussed and strategies offered on how to help a child deal with peer pressure and the allure of popularity.
The raffle draw segment of the event had the audience eager for the fantastic prizes that were up for grabs, which included luxury hampers, spa treatments at WheatBaker Hotel, brunch at Southern Sun, Ruff N Tumble shopping voucher, coaching sessions with Lanre Olusola, gifts from Bestman Games and other exciting gifts.
The event was rounded off by Yetty Williams (Founder, Lagos Mums), who thanked the attendees, speakers and sponsors of the event. She shared her joy at the growth and impact that LagosMums is having as a platform for parents helping each other on the parenting journey. The attendees were encouraged to download and use the LagosMums app on Play Store for android devices to read posts, track their pregnancies and immunization schedules.
The speakers received gifts courtesy of R & R Luxury. The platinum sponsors of the event, MumsWorld and The Audrey Pack had their representatives in attendance. The event was closed officially and all attendees were given goodie bags that had a variety of products courtesy of sponsors like Honeywell, CIS, Olori Beauty Products, Aweni Organics, Lego, Zaron Cosmetics, TW Magazine& Motherhood In Style. The event was covered by media partners  Guardian News, EbonyLive TV and FlyTime TV, photography was by FotoLight House.
Yetty Williams (Founder LagosMums) and her husband, Labi Williams
LagosMums received glowing feedback regarding the event from attendees, panelists, and the press. There is demand for more regular events and plans are underway for the next editions of the LagosMums Parenting and Networking Event, including coaching and mentorship sessions, which will commence in 2016.
LagosMums would also like to thank all the supporters and voters in the recently concluded ELOY 2015 Awards, which saw LagosMums emerge as the winner for the Social Media/Online Editor in the Exquisite Lady of the Year Award hosted by Exquisite Magazine.