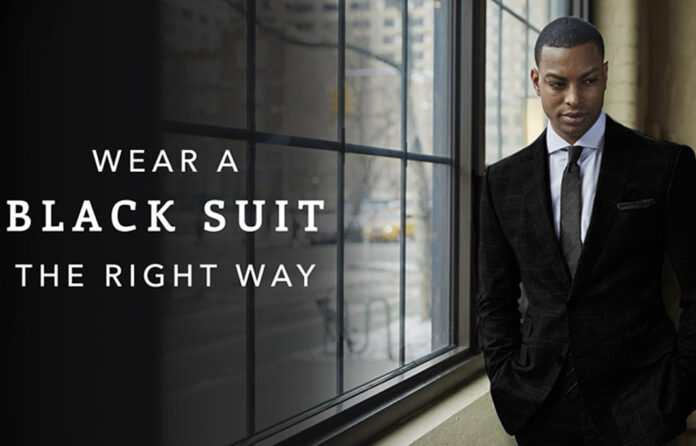 A black suit is in theory, the staple of the all staples in regards to formal attire. Is it difficult to wear yes?, because it is so common. When done right black is great but truly awful when done wrong. You cannot hide behind a poorly altered black suit as it will ready sloppy and careless. This is why we have arranged our top tips for wearing a black suit for different occasions, incorporating our do's and don't for the classic black suit.
1. The fit is everything, if you are going to wear a black suit you will need tailoring. You will want the jacket to be cut slim through the waist to maintain a fitted silhouette.
2. Choose a light weight suit fabric in wool/cotton as it will help regulate the temperature.
3. Work with contrasting shirt colours in natural tones like white grey and navy but as with your tailoring, ensure you are opting for a slim fit Shirt.
4. For less formal occasions add a colourful pocket Square, t-shirt, polo and a black suede loafer for a more youthful look.
The Black Suit For Black Tie
"Keep It simple " is how the phrase goes, and we couldn't agree more. Go for Clean lines and single breasted jacket for a sleek adaptation of all black.
If a classic black suit is not bold enough for you, try a wide peak shawl lapel. This will not only add dimension visually for an evening function but also be a nice change from the sea of men in standard black suits that typically arrive at black tie occasions.
The Black suit for smart causal
Smart casual is an elusive dress code, where you mix causal elements with more dressy pieces. The key to perfection smart causal is to aim for a more mature look.scoop neck sweaters and T-shirts under your black suit work well, as do versatile button downs and simple turtlenecks.
The Black Suit and All Black Ensembles
Black shirts with black suits are tricky to get right; it could be difficult to make it look fresh. If you want to wear a black shirt with a black suit make sure your pieces are distinguished between one another . Styling is very important you don't want to come of as scary, a lapel pin or a tie clip will add substance to the outfit. It's all about balance, so keep your look well-tailored and clean.
Brown obakore is a Men's Wear Designer Striving to influence individuals who are constantly seeking Style innovations .Follow my style story Via instagram @Browninspired