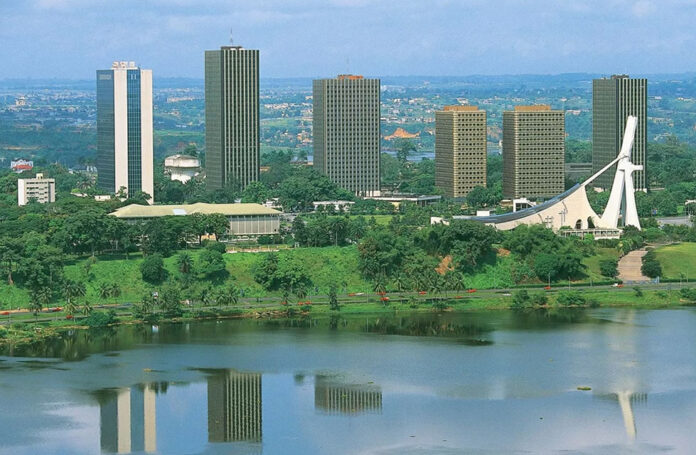 ABIDJAN – Rachel* is saving up to go to Ghana, pinning her hopes on a friend living in the Ghanaian border town of Elubo, three hours' drive east of Abidjan.
Rachel told IRIN that life had become intolerable. She had landed a job in early March, offering take-home pay of FCFA8,000 (about US$18) for an evening shift in an up-market bar. But the owners announced a few days later they could not pay staff. Liquidity problems had deteriorated with the closure of most of Abidjan's banks. Business was falling off badly as customers faded away. Rachel's job lasted just a couple of days.
"I went with some of the other people being laid off to try for jobs elsewhere, but there was nothing. There is no money out there and everyone has bills to pay: electricity, water, food, rent. It's impossible".
Rachel said she could cope with the disappointment of another job gone, but was tired of the gunfire at night. Until recently she had lived in Angré, a neighbourhood that had been relatively calm, but backs on to the southern fringe of Abobo, scene of the worst violence in Abidjan since the post-election crisis began in December 2010.
"I have visited Abobo and seen corpses on the streets," Rachel explained. "No one should be made to see that sort of thing. Do they want people to die like animals? You kill everyone and you have no one left to govern."
Rachel said the final straw was the killing of four men near the well-known SOCOCE supermarket in Deux Plateaux, an upmarket neighbourhood with a strong expatriate presence. According to media reports, armed men in a taxi opened fire on a [pro-Laurent Gbagbo] Jeunes Patriotes roadblock near the supermarket. "People came running up, talking about the bodies, but I didn't want to look. I haven't got the stomach for this kind of thing."
Heading for Ghana
The road east to Ghana has become a favourite route out of Abidjan, both for those seeking temporary exile, or just wanting cash from outside. Along with the banks, money transfer services such as Moneygram and Western Union no longer operate in Abidjan, so there is a steady flow of customers to Ghana. The southeast of Côte d'Ivoire is firmly under the control of forces loyal to Laurent Gbagbo, so there are no major fronts to cross, although vehicles are regularly checked by security forces and Jeunes Patriotes. "I was not impressed with their behaviour," a recent traveller told IRIN. "Lots of requests for cash and they made a point of harassing non-Ivoirians, questioning their documents, demanding money."
There has been talk of Ghana closing the frontier, concerned by the expanding Ivoirian presence in Elubo and its surroundings, but the cross-border traffic appears to be normal for now.
Fluctuating levels of violence
Abobo remains by far the district worst affected by the violence. In a telephone interview from Abidjan, a youth described seeing arms stored at a primary school and boys between 13 and 18 training on the school grounds. Speaking from nearby Plateau-Dokui against a background of shelling in the distance, he warned of a continuing descent into turmoil. "I do not see a way out. I can't even think about eating; I'm beside myself with worry about what's about to happen. Both sides are recruiting and preparing to fight. And UNOCI [UN Mission in Cote d'Ivoire] is completely powerless in this."
With its large Malinké community, made up of mainly Muslims from northern Côte d'Ivoire and neighbouring states like Mali and Burkina Faso, Abobo is frequently characterized as "pro-[Alassane] Ouattara". But while the Rassemblement des Houphouëtistes pour la Democratie et la Paix (RHDP) has a huge support base, Abobo, like Yopougon, farther west, is far from homogeneous.
Martin*, who is from the Guéré ethnic group, with family roots in the west, lives in Plateau Dokui, close by the southern part of Abobo. He says the Abobo Baoulé quartier, dominated by the Baoulé from the centre of the country, is off-limits for him. "It's not far from here, but there is no way I would go there now. I would be putting my life in my hands." The same goes for areas he describes as "controlled by rebels" to the north. Martin says the flashpoints and no-go areas are now well-known to him, but fears the insecurity is encroaching. "Yesterday there was fighting in the area between Abobo and Adjamé. This morning, just half-an-hour ago, I saw a man shot dead here. They said he was a rebel."
Martin and others stress that while there have been targeted killings and harassment of citizens on the basis of their ethnic identity or nationality, Abidjan has not yet been hit by major eruptions of inter-communal violence. But the pre- and post-electoral political competition and accompanying violence have raised tensions and different zones are known for their political affiliations, either RHDP for Ouattara, or La Majorité Presidentielle (LMP) for Gbagbo.
Some point out that much of the shooting heard at night will be security forces and others firing into the sky, signalling their presence and not engaging the enemy. But stray bullets remain a real hazard, not just an irritant and the gunfire keeps people at home, while bars and outdoor restaurants close early.
Sifting truth from rumour
Getting an overall overview of what is going on where in Abidjan and the interior remains difficult. "People tend to go with the media they trust, representing the side they support, but they will keep an eye on what the other side is saying out of curiosity," says Laurent Tia*, a long-time resident of Yopougon. "Rumours spread quickly. For example, there was a report of Nigerian mercenaries arriving in Bouaké to fight against Gbagbo. So you had Jeunes Patriotes at road-blocks searching cars, asking for Nigerian nationals, or 'Anangos'."
Many of the stories concern impending attacks from one neighbourhood to another or arms caches being discovered and communiqués being issued, containing instructions for military operations. Supporters of both sides are prone to making verbal threats, raising tensions and promoting fear.
"There are roadblocks all over here now," says Wouilly from Yopougon. "The Jeunes Patriotes are more important than the municipal authorities except for in areas like Wassaakra and Port-Bouet 2 where the RHDP has its strongholds." Wouilly says the roadblocks had been more disciplined of late, but their high-profile presence contributed to tensions. He too warned of rumours and false stories, recalling police accounts of being sent on false missions to track down arms caches.
South of the lagoon
In Koumassi, south of the lagoon, residents talk of a "front-line" between the SICOGI district, with a large Catholic community, and adjoining Dioulabougou, where Malinké Muslims are by far the dominant group.
"Rival youth movements on both sides have their political affiliations and a long history of mutual animosity, so there has been a lot of score-settling," Max, a SICOGI resident confirmed. "I have heard of a youth group visiting both areas and trying to restore confidence, but I'm not sure what impact it has had. What is really worrying is the kind of war psychosis you see, this feeling that a major confrontation is coming and many people seem to actually want this. I took in my brother and his wife because they wanted to get away from the violence in Abobo, but I don't know about here."
Jeunes Patriotes' leader Charles Blé Goudé visited Koumassi recently and his appeal for a mass mobilization of young activists appears to have gone down well in the pro-Gbagbo parts of Koumassi, where the "salle de fêtes", used for meetings, cultural events and marriages, is one of several designated rallying points for Jeunes Patriotes across Abidjan.
Still at peace
"It's a different story here," says Eugène, who lives in Marcory, just west of Koumassi. Eugène told IRIN that Marcory had seen little violence. "There is a bit more prosperity here and communities have tended to get on better. There is not the same distrust. I was in Adjamé the other day to the north and it was a very different atmosphere, much tenser." Radio Téré, the local station for Adjamé, was burned down recently. The station in Marcory is still broadcasting 24 hours a day, albeit under serious financial constraints.
It is up to the leaders to sit down and sort things out… People are talking about another Rwanda here. We have nothing but bad things in our head for now
But Eugène said Marcory was a shadow of its former self. "I am constantly amazed by how few cars you see on the road when you used to have so many traffic jams around here." As in other areas, many businesses have closed, while shops and bars close early. Many houses stand empty, available for rent at knockdown prices, their owners and occupants often heading out of Abidjan. "They want security, they want safety," Eugène told IRIN. "The interior of the country has become a kind of sanctuary,"
"People are not just fleeing gunfire but poverty," explained Laurent Tia. "Some heads of households are staying on, while sending family members, particularly children, out of the city. Some want to be in the safety of their villages for now, looking to come back later. With so many losing their jobs, there is no incentive to stay. Life is much cheaper outside Abidjan."
Despite major increases in transport costs, the mass exodus from Abidjan's different bus stations continues unabated. In addition to strong competition for places and roadblocks, passengers have to contend with dangerously overcrowded buses and a number of serious accidents have been reported.
Scepticism
UN agencies and NGOs have warned of serious difficulties in getting aid to those on the move, not just those who have crossed the borders, but the hundreds of thousands internally displaced.
There is widespread scepticism about the ability of the African Union (AU), Economic Community of West African States (ECOWAS) and UN to turn things round. The ECOWAS meeting in Abuja, following up on recommendations from the AU's Panel of Five, wrapped up in Abuja on 24 March with condemnations of violence, appeals to the UN to protect civilians and transfer power to Ouattara, the "universally recognized" head of state. ECOWAS also called for tougher sanctions against Gbagbo and reaffirmed, albeit obliquely, its willingness to use force to oust him.
But its recommendations fell well short of those issued by the International Crisis Group (ICG) on 22 March, whose communiqué warned bluntly: "Côte d'Ivoire is no longer on the brink of civil war; it has already begun." The ICG called on ECOWAS "to decide on the establishment of a military mission whose objective would be to allow the regional community to protect, along with UNOCI forces, all people residing in Côte d'Ivoire in the very likely case of the eruption of massive violence".
In the absence of international solutions, people have little faith in internal peace initiatives. "Civil society organizations have tried, but they are too compromised or too weak," a woman in Yopougon complained. "You get declarations saying: 'stop the violence', but the religious leaders and civil society types have been overtaken by events," said Eugène in Marcory.
"It is up to the leaders to sit down and sort things out," Rachel told IRIN. "People are talking about another Rwanda here. We have nothing but bad things in our head for now."
*Not their real names